Lap Lyses Of Adhesions Center

Providing the finest professional
medical services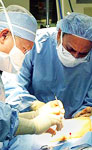 Adhesions are fibrous structures that connect tissues or organ surfaces that are not normally joined. They are an undesirable side effect of the body's normal healing process following damage to tissue. Adhesions can cause significant complications such as bowel obstruction following abdominal surgery and infertility following gynecological surgery.
According to industry sources, in the United States surgeons perform an estimated 440,000 abdominal operations annually to remove adhesions, and the annual cost in the United States for the removal of such adhesions is approximately $1.2 billion in inpatient treatment charges.
Managing adhesions by the old, conventional open surgical technique will lead to more tissue reaction with fibrous tissue and eventually more adhesions. The answer to this problem is laparoscopic adhesiolysis. If the condition is treated by laparoscopic surgery, there will be minimal post operative adhesion formation. Laprosopic surgery has also shown to be beneficial in treating patients who had previous open conventional surgery. Again, special expertise is needed to perform this type of procedure.
Providing the finest professional medical services