Breast Surgery Center

Providing the finest professional
medical services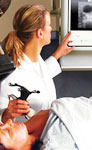 You will meet a team of highly experienced surgeons who will work as a team with the oncologist, physical therapist, and plastic surgeon to help you beat the disease and recover quickly.
We implement the most recent approaches to treat breast disease, including but not limited to Minimal invasive approach, Sentinel lymph node biopsy techniques for breast cancer and the use of the Harmonic Scalpel (Ethicon Endo-Surgery) to minimize post operative pain, blood loss and morbidity that might arise from breast surgery.
Ask our Surgeon about Harmonic Scalpel in breast surgery.
Providing the finest professional medical services