Thyroid Surgery Center

Providing the finest professional
medical services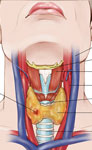 Our team members are highly experienced in thyroid surgery, a procedure which requires extensive knowledge and expertise. They combine their overseas training, experience and knowledge with their US experience in treating thyroid issues.
The most recent technological modalities are used in order to decrease the possibility of nerve injury, which includes the use of the Harmonic Focus (Ethicone surgical) ultrasonic shears and the nerve monitoring system.
Research and development at Ohio labs and scientific centers yielded 10 of the winners on R&D Magazine's list of the top 100 innovations of 2008. That puts the state near the top in terms of discovery and the vision to turn that knowledge into products and services.
Ask our surgeon about the use of laparoscopic surgery in thyroid and parathyroid diseases.
Providing the finest professional medical services